2018
SFBC sponsors two CBC's.. Sioux Falls and Canton
Sioux Falls count: Saturday, December 15, 2018 meeting at the Outdoor campus at 8:00 am.
The Canton count is Sunday, December 30. 2018 meeting at the Pump N Pak service station where one turns south on US Hwy 18 to go to Newton Hills SP at 8:30 am.
All are welcome; please let me know if you are planning to attend for all or part of the day, or participate as a feeder watcher so that I can plan coverage accordingly.
Contact Chris Anderson at:
canderson1@sio.midco.net
to let him know if you are planning on participating in either CBC.
Info on what they CBC is can be found at: http://birds.audubon.org/christmas-bird-count
The first CBC in Sioux Falls was held in 1905 with the following results:
Click here to change this text.
6 Prairie Chickens9 BC Chickadees75 Tree Sparrows
2017 Sioux Falls CBC Results
Thanks to everyone who participated in the Sioux Falls CBC this past Saturday, December 16th. We had 18 field observers and 2 feeder watchers whose combined efforts turned up 56 species and 9,979 individuals on count day, plus 2 more species during count week. This appears to be a record number of species for us, with this being the 77th time the count has been conducted. We did have a handful of species making rare appearances on the list:

Northern Saw-whet Owl – 1st ever record

Hooded Merganser – 2nd

Yellow-rumped Warbler – 2nd

Townsend's Solitaire – 3rd

Ring-necked Duck – 5th

American Wigeon – 6th

Great Blue Heron – 8th

Here is the full list:

Cackling Goose – 800

Canada Goose – 3249

American Wigeon - 1

Mallard – 1546

Ring-necked Duck – 1

Hooded Merganser - 2

Ring-necked Pheasant – 4 (the lowest total since 1932; observed on 67 straight counts)

Wild Turkey – 9

Great Blue Heron – 1

Sharp-shinned Hawk – 3

Cooper's Hawk – 1

Bald Eagle – 11

Red-tailed Hawk – 39

Rough-legged Hawk – 8 (tied highest count)

Rock Pigeon – 1669

Eurasian Collared-Dove – 63 (almost 1.5 times the previous high of 44)

Mourning Dove – 34

Eastern Screech Owl – 6

Great Horned Owl – 8

Long-eared Owl – 2

Northern Saw-whet Owl – 1 (first ever)

Belted Kingfisher – 1

Red-bellied Woodpecker – 25

Downy Woodpecker – 66

Hairy Woodpecker – 26

Northern Flicker – 19

American Kestrel – 8

Northern Shrike – 3

Blue Jay – 46

American Crow – 61

Horned Lark – 300

Black-capped Chickadee – 130

Red-breasted Nuthatch – 4

White-breasted Nuthatch – 77

Brown Creeper – 2

Golden-crowned Kinglet – 2

Townsend's Solitaire – 1

American Robin – 15

European Starling – 665

Cedar Waxwing – 197

Yellow-rumped Warbler – 5

American Tree Sparrow – 50

Dark-eyed Junco – 176

Northern Cardinal – 32

Red-winged Blackbird – 1

Western Meadowlark – 5

Rusty Blackbird – 5

House Finch – 80

Purple Finch – 19

Red Crossbill – 2

Common Redpoll – 7

Pine Siskin – 22

American Goldfinch – 87

House Sparrow – 379

Count Week – American Coot and White-winged Crossbill

Chris Anderson

Sioux Falls, SD

2014 Canton CBC
The Canton Christmas Bird Count took place Saturday, Jan. 3rd. Seven individuals participated and broke into 4 groups. There was some owling done as well. Canton would have had more species than SF bird count except there were no waterfowl or kingfishers on the count. A total of 41 species ware observed and a total of 2494 birds observed. The Canton CBC is in both Iowa and SD, with the larger portion in SD. In South Dakota 37 species were observed with a total of 1073 individuals. Iowa had 33 species observed and 1421 individuals. Owling was productive with 5 species. Species of highlight include N.Goshawk, Barred Owl, N. Saw-whet owl and Chipping Sparrow. House Sparrows were most numerous followed by Horned Larks.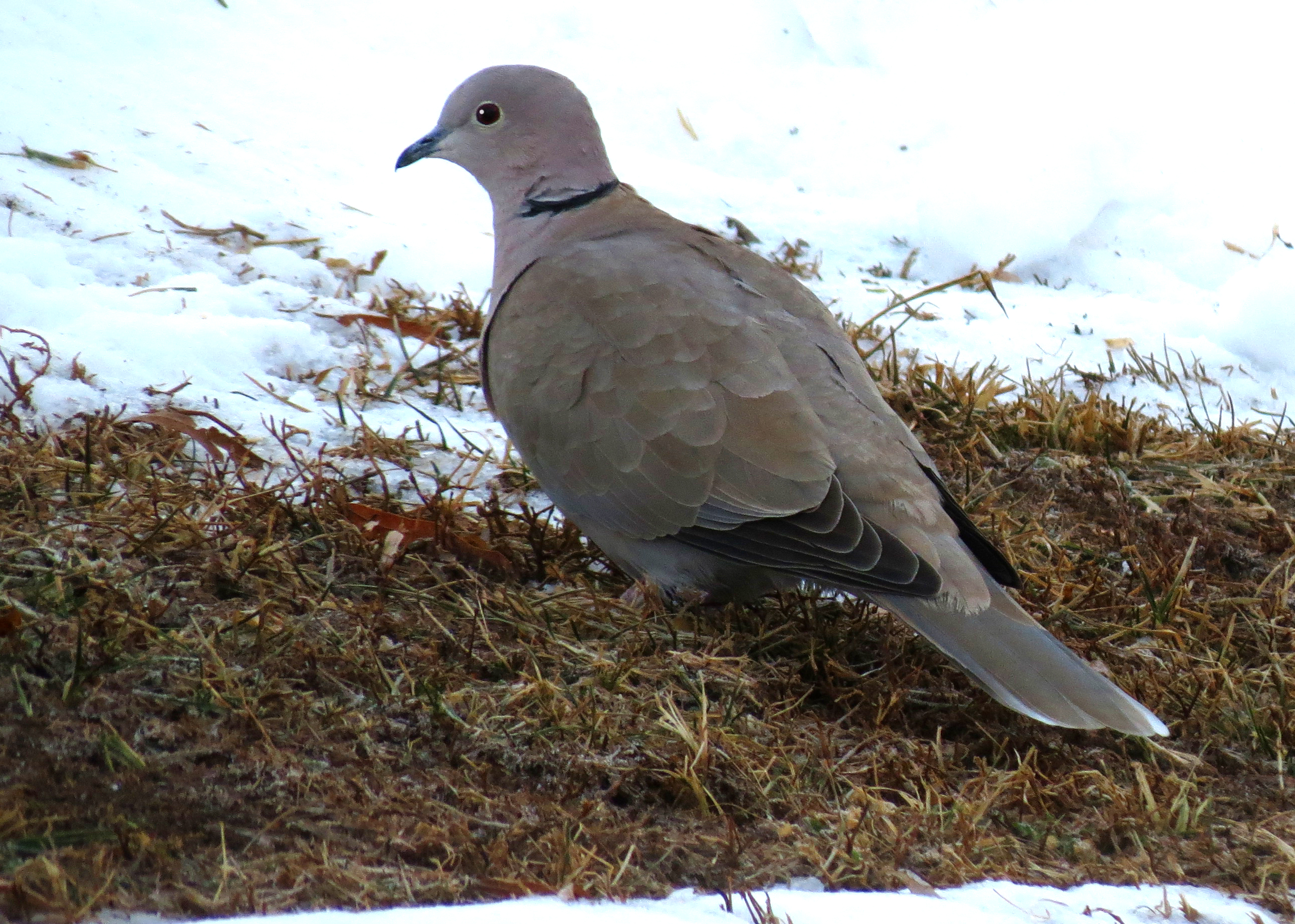 Eurasian Collared Dove in Canton
2014 Sioux Falls CBC
The Sioux Falls CBC took place on December 20.. Thirteen people participated and one feeder counter. There was 44 species on today's count and 1 each CW. A total of 9022 individual birds observed today. The weather had impacted the count today with cloudiness and haze. Species of note today include common Goldeneye. Brown creeper, Harris's sparrow, Barred owl, Cackling goose, Pileated woodpecker and Varied thrush. With Sioux Falls evermore changing into an urban count, one can see the impacts of habitat losses and non-native species are replacing native species. Rock pigeon replaced Canada Goose as the most abundant species. Rock Pigeon, European (common) Starling, house sparrows accounted for over half the individual birds seen on the count, with the addition of Eurasian-collared doves starting to move in.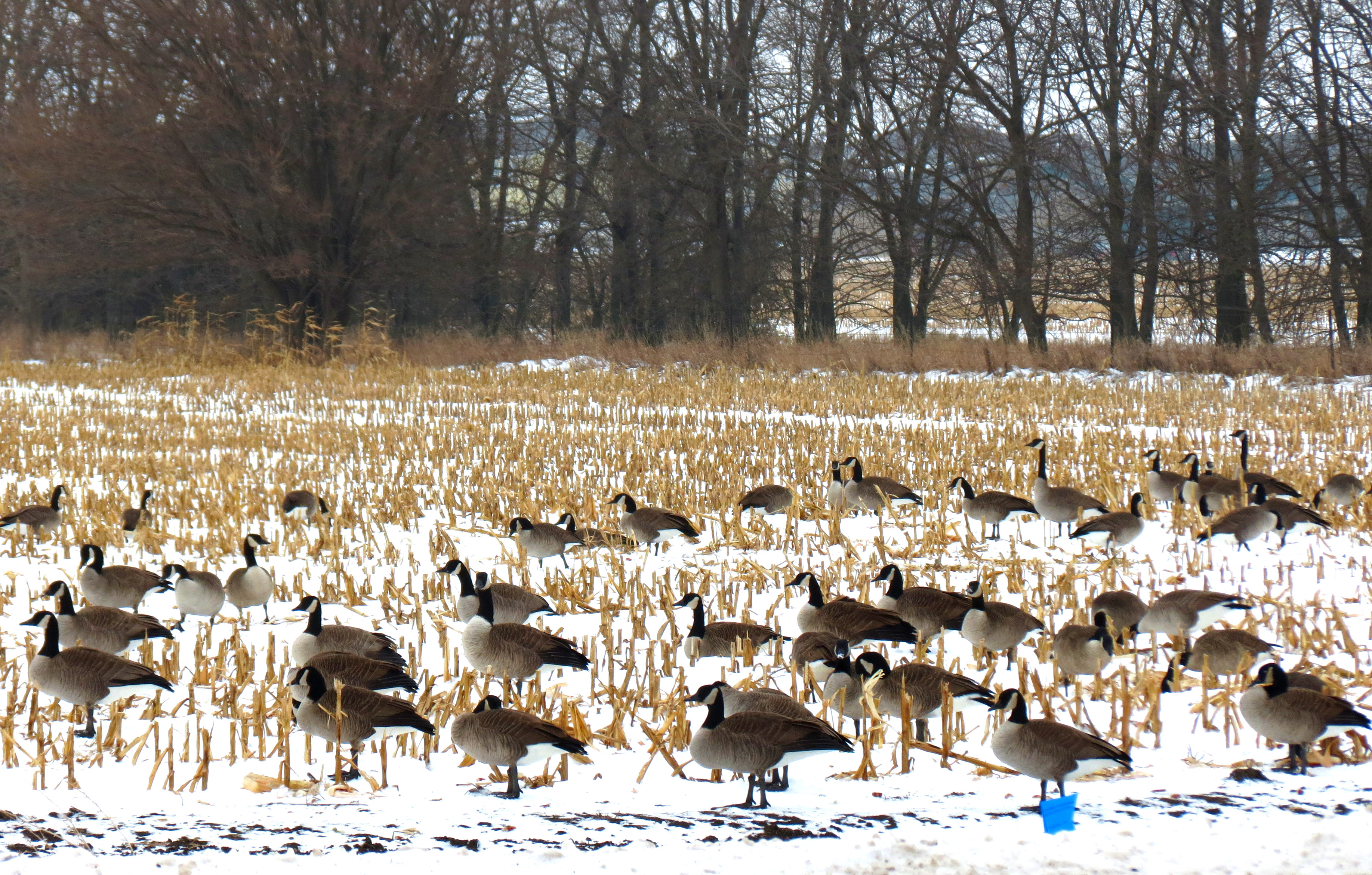 Results from the Sioux Falls CBC for 2013
The Sioux Falls CBC was held Saturday December 14, 2013. there were 15 participant with 48 species observed with a total of 16410 individuals, Plus one CW bird fox sparrow. Notable high counts were Blue jay, Am robin, Dark-eyed hunch, Red-bellied woodpecker, Eurasian -collared Dove,rock pigeon and Rough-legged hawk. Thanks to all who participated. Todd
The first Canton CBC was held in 1914
Results for the Canton/Inwood CBC fir 2013
Here are the species results from the Canton CBC. Thanks for those helping with the Canton CBC.
Todd Jensen
16 people participated on the count . Iowa had 38 species and 2741 individual birds. South Dakota had 47 species and 2616 individual birds. There was a grand total of 53 species and a total of 5,357 individual birds. >
>
> Species on the count were:
>
> Canada Goose
> Wood duck
> mallard
> ring-necked pheasant
> wild turkey
> bald eagle
> northern harrier
> sharp-shinned hawk
> northern goshawk
> red-tailed hawk
> Harlan's hawk
> rough-legged hawk
> Wilson's snipe
> rock pigeon
> Eurasian-collared dove
> mourning dove
> eastern screech-owl
<span style="background:#fffff