SFBC Field Trip October 6th 2018 Ten participants
Species List
1. Pied-billed Grebe
2. American White Pelican
3. Double-crested Cormorant
4. American Bittern
5. Great Blue Heron
6. Great Egret
7. Snowy Egret
8. Turkey Vulture
9. Canada Goose
10. Wood Duck
11. Mallard
12. Northern Shoveler
13. Gadwall
14. Ruddy Duck
15. Osprey
16. Cooper's Hawk
17. Swainson's Hawk
18. Red-tailed Hawk
19. American Coot
20. Lesser Yellowlegs
21. Franklin's Gull
22. Ring-billed Gull
23. Rock Pigeon
24. Mourning Dove
25. Eurasian Collard Dove
26. Downy Woodpecker
27. Flicker
28. Blue Jay
29. American Crow
30. Tree Swallow
31. Barn Swallow
32. American Robin
33. European Starling
34. Cedar Waxwing
35. Orange-crowned Warbler
36. Yellow-rumped Warbler
37. Vesper Sparrow
38. Savannah Sparrow
39. Song Sparrow
40. Red-winged Blackbird
41. Western Meadowlark
42. Common Grackle
43. Brown-headed Cowbird
44. House Finch
American Goldfinch
July 14, 2018 Field trip to Good Earth SP and Lake Alvin
14 folks. Species found:
Scarlet Tanager, Yellow-throated Vireo, Dickcissel, Eastern Wood-Pewee, Rose-breasted Grosbeak, Eastern Towhee, Indigo Bunting, Eastern Bluebird, Sedge Wren, Yellow-bellied Sapsucker, and Ruby-throated Hummingbirds. At Lake Alvin, there were several Orchard Orioles. All told, we observed 50 species on the day.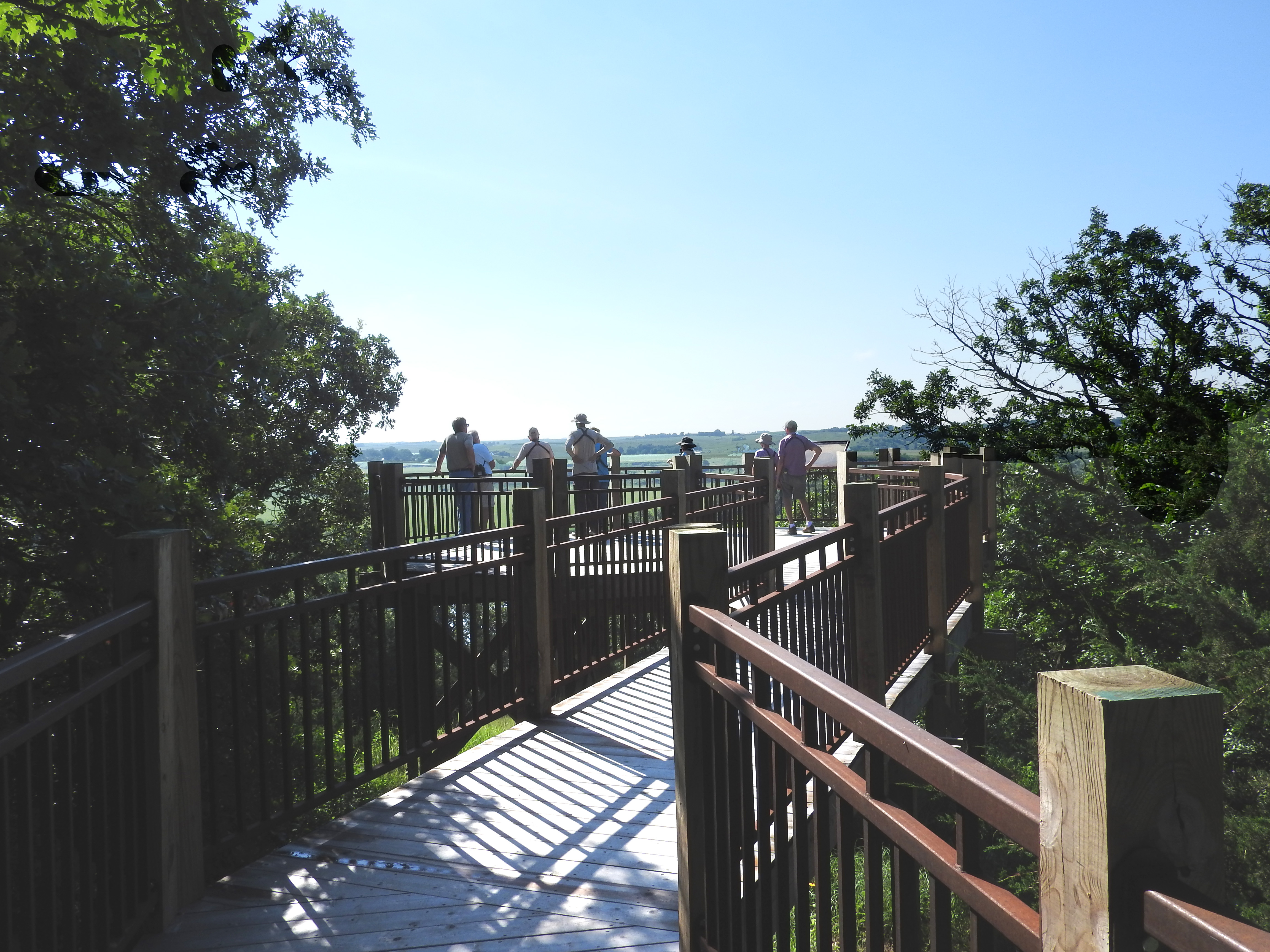 Click on the options cog to enter your custom HTML.
June 9,2018
SFBC birders visited Perry Nature Area and Blue Mounds State Park in nearby Luverne, MN, tallying around 70 total species. Our hopes of re-finding the Western Tanager at Perry were quickly realized, as it was calling when we got there and was again seen cavorting with a female Scarlet Tanager. Other nice birds at Perry included nesting Yellow-bellied Sapsuckers, Blue-gray Gnatcatcher, Baltimore Orioles, a Yellow-throated Vireo, and a number of Indigo Buntings.
At Blue Mounds, we found an assortment of grassland or grassland-adjacent birds including Grasshopper Sparrows, Bobolinks, a Blue Grosbeak, Orchard Oriole, quite a few Dickcissels, and a particular highlight in a singing Henslow's Sparrow. It was a first for most of the group.
Our next club field trip will be Saturday, July 14th to Good Earth State Park. All are welcome to join.
Chris Anderson
Sioux Falls, SD
May 12, 2018
field trip to Union Grove SP and Worthing area marshes. Over 100 species observed
Canada Goose

Wood Duck

Blue-winged Teal

Northern Shoveler

Mallard

Ring-necked Pheasant

Wild Turkey

Great Blue Heron

Green Heron

Turkey Vulture

Northern Harrier

Cooper's Hawk

Broad-winged Hawk

Bald Eagle

Red-tailed Hawk

American Coot

American Golden-Plover

Semipalmated Plover

Killdeer

Upland Sandpiper

Hudsonian Godwit

Dunlin

Baird's Sandpiper

Least Sandpiper

White-rumped Sandpiper

Pectoral Sandpiper

Short-billed Dowitcher

Wilson's Phalarope

Lesser Yellowlegs

Franklin's Gull

Ring-billed Gull

Rock Pigeon

Eurasian Collared-Dove

Mourning Dove

Ruby-throated Hummingbird

Red-headed Woodpecker

Red-bellied Woodpecker

Yellow-bellied Sapsucker

Downy Woodpecker

Northern Flicker

American Kestrel

Willow Flycatcher

Least Flycatcher

Great Crested Flycatcher

Eastern Kingbird

Loggerhead Shrike

Yellow-throated Vireo

Blue-headed Vireo

Blue Jay

American Crow

Barn Swallow

Cliff Swallow

Black-capped Chickadee

White-breasted Nuthatch

House Wren

Sedge Wren

Marsh Wren

Winter Wren

Ruby-crowned Kinglet

Eastern Bluebird

Swainson's Thrush

Wood Thrush

American Robin

Gray Catbird

Brown Thrasher

European Starling

Ovenbird

Northern Waterthrush

Black-and-white Warbler

Tennessee Warbler

Orange-crowned Warbler

Nashville Warbler

American Redstart

Magnolia Warbler

Yellow Warbler

Blackpoll Warbler

Palm Warbler

Yellow-rumped Warbler

Wilson's Warbler

Chipping Sparrow

Clay-colored Sparrow

Field Sparrow

Lark Sparrow

Harris's Sparrow

White-throated Sparrow

Savannah Sparrow

Song Sparrow

Lincoln's Sparrow

Eastern Towhee

Northern Cardinal

Rose-breasted Grosbeak

Dickcissel

Yellow-headed Blackbird

Bobolink

Western Meadowlark

Baltimore Oriole

Red-winged Blackbird

Brown-headed Cowbird

Common Grackle

House Finch

American Goldfinch

House Sparrow

--


Saturday, april 28, we had 13 birders partake in the Sioux Falls Bird Club field trip,
visiting various wetlands within Sioux Falls and in western Minnehaha
County. It was a beautiful day with little wind, and we found 80 species.
One particular highlight included Common Loons at three different locations
(Lake Lorraine and the westside Sanford Wellness Center in Sioux Falls, and
Wall Lake west of town); we've definitely had more loons observed in the
Sioux Falls area this spring than in past years. Wall Lake also had a Horned
Grebe and an Osprey.

There were a few Swamp Sparrows at Dewey Gevik, and Savannah and Vesper
Sparrows have come back to the area in numbers as well. At Grass Lake, there
were a few Forster's Terns, and we got some fleeting views of five
White-faced Ibises at the shooting club on the opposite side of the road.

Shorebirds were pretty few and far between, but we did see Greater and
Lesser Yellowlegs, surprisingly few Killdeer, a Spotted Sandpiper, and three
American Avocets
Snow Goose
Greater White-fronted Goose
Canada Goose
Wood Duck
Blue-winged Teal
Northern Shoveler
Gadwall
American Wigeon
Mallard
Northern Pintail
Canvasback
Redhead
Ring-necked Duck
Lesser Scaup
Bufflehead
Common Goldeneye
Hooded Merganser
Common Merganser
Red-breasted Merganser
Ruddy Duck
Ring-necked Pheasant
Common Loon
Pied-billed Grebe
Horned Grebe
Double-crested Cormorant
American White Pelican
Great Blue Heron
Great Egret
White-faced Ibis
Turkey Vulture
Osprey
Northern Harrier
Bald Eagle
Red-tailed Hawk (Krider's)
American Coot
American Avocet
Killdeer
Spotted Sandpiper
Greater Yellowlegs
Lesser Yellowlegs
Ring-billed Gull
Franklin's Gull
Forster's Tern
Rock Pigeon
Eurasian Collared-Dove
Mourning Dove
Belted Kingfisher
Downy Woodpecker
Hairy Woodpecker
Northern Flicker
American Kestrel
Eastern Phoebe
Blue Jay
American Crow
Purple Martin
Tree Swallow
Barn Swallow
Black-capped Chickadee
White-breasted Nuthatch
American Robin
European Starling
Cedar Waxwing
Orange-crowned Warbler
Yellow-rumped Warbler
Chipping Sparrow
Dark-eyed Junco
Vesper Sparrow
Savannah Sparrow
Song Sparrow
Lincoln's Sparrow
Swamp Sparrow
Northern Cardinal
Yellow-headed Blackbird
Western Meadowlark
Red-winged Blackbird
Brown-headed Cowbird
Common Grackle
House Finch
American Goldfinch
House SparrowApril Field Trip Results
February 10, 2018 Areas south of Sioux Falls
Mallard
Ring-necked Pheasant
Bald Eagle
Red-tailed Hawk
Rough-legged Hawk
Rock Pigeon
Great Horned Owl
Red-bellied Woodpecker
Downy Woodpecker
Hairy Woodpecker
Blue Jay
American Crow
Horned Lark
Black-capped Chickadee
Red-breasted Nuthatch
White-breasted Nuthatch
Brown Creeper
European Starling
American Tree Sparrow
Dark-eyed Junco
Northern Cardinal
Red-winged Blackbird
Purple Finch
Pine Siskin
American Goldfinch
House Sparrow
January 20, 2018 In Town (Sioux Falls)
Today seven birders spent half a day visiting some of our winter go-to spots around Sioux Falls. We were treated to a Snowy Owl that must really like its spot up on North Marion Rd (it's been around for 5+ weeks), as well as a mixed finch flock at Mount Pleasant Cemetery containing White-winged Crossbills, Pine Siskins, and Common Redpolls, plus Red-breasted Nuthatches, a Golden-crowned Kinglet, and a Great Horned Owl being relentlessly harassed by some Crows. There was also a handful of Common Goldeneyes at the Big Sioux River spillway near John Morrell, which was nice for us since we are short on waterfowl here in the winter. Full species list is below.
Today's club outing list:
Canada Goose
Mallard
Common Goldeneye
Red-tailed Hawk
Rough-legged Hawk
Ring-necked Pheasant
Rock Pigeon
Great Horned Owl
Snowy Owl
Red-bellied Woodpecker
Downy Woodpecker
Northern Shrike
American Crow
Black-capped Chickadee
Red-breasted Nuthatch
White-breasted Nuthatch
Golden-crowned Kinglet
European Starling
American Tree Sparrow
Dark-eyed Junco
Northern Cardinal
Common Redpoll
White-winged Crossbill
Pine Siskin
House Sparrow
September 9- 2017 Mt. Pleasant, Good Earth
Today 11 birders from Sioux Falls and beyond birded several spots in the
Sioux Falls area, including the Outdoor Campus, Mount Pleasant Cemetery,
Good Earth State Park, the Harmodon Park sloughs, and a brief stop downtown
to check out the continuing Peregrine Falcon on the US Bank building. In
total, we found around 60 species, including the previously reported flock
of Red Crossbills and Pine Siskins that continue to frequent the cemetery.
The spruce cone crop at Mount Pleasant looks as abundant as it's ever been,
which could bode well for this winter.

More feeders have recently been installed at Good Earth - there are now a
few right on the south end of the parking lot (convenient for viewing from a
car in the winter), in addition to the main cluster behind the visitor
center. Thanks to the folks who have put in the time and effort to make the
feeder stations happen, they are a great asset to the park.

Our next club activity will be our biannual business meeting on Thursday,
October 5. This will be at the visitor center at Good Earth State Park at 7
pm, possibly followed by an owl walk if the weather is nice. Our next field
trip will be Saturday, October 14th to look for migrating sparrows at Dewey
Gevik Nature Area and the Bucher Prairie.

Chris Anderson
Sioux Falls, SD

Today's list to the best of my memory:
Canada Goose
Wood Duck
Mallard
Great Blue Heron
Green Heron
Turkey Vulture
Cooper's Hawk
Swainson's Hawk
Red-tailed Hawk
American Coot
Killdeer
Pectoral Sandpiper
Wilson's Snipe
Ring-billed Gull
Rock Pigeon
Eurasian Collared-Dove
Mourning Dove
Common Nighthawk
Ruby-throated Hummingbird
Belted Kingfisher
Red-headed Woodpecker
Red-bellied Woodpecker
Downy Woodpecker
Hairy Woodpecker
Northern Flicker
Peregrine Falcon
Eastern Kingbird
Blue-headed Vireo
Philadelphia Vireo
Red-eyed Vireo
Blue Jay
American Crow
Barn Swallow
Black-capped Chickadee
Red-breasted Nuthatch
White-breasted Nuthatch
House Wren
Swainson's Thrush
American Robin
Gray Catbird
European Starling
Cedar Waxwing
Tennessee Warbler
Nashville Warbler
Mourning Warbler
Chipping Sparrow
Clay-colored Sparrow
Field Sparrow
Song Sparrow
Northern Cardinal
Rose-breasted Grosbeak
Red-winged Blackbird
Common Grackle
House Finch
Red Crossbill
Pine Siskin
American Goldfinch
House Sparrow
March 25, 2017- Wetlands area west of Sioux Falls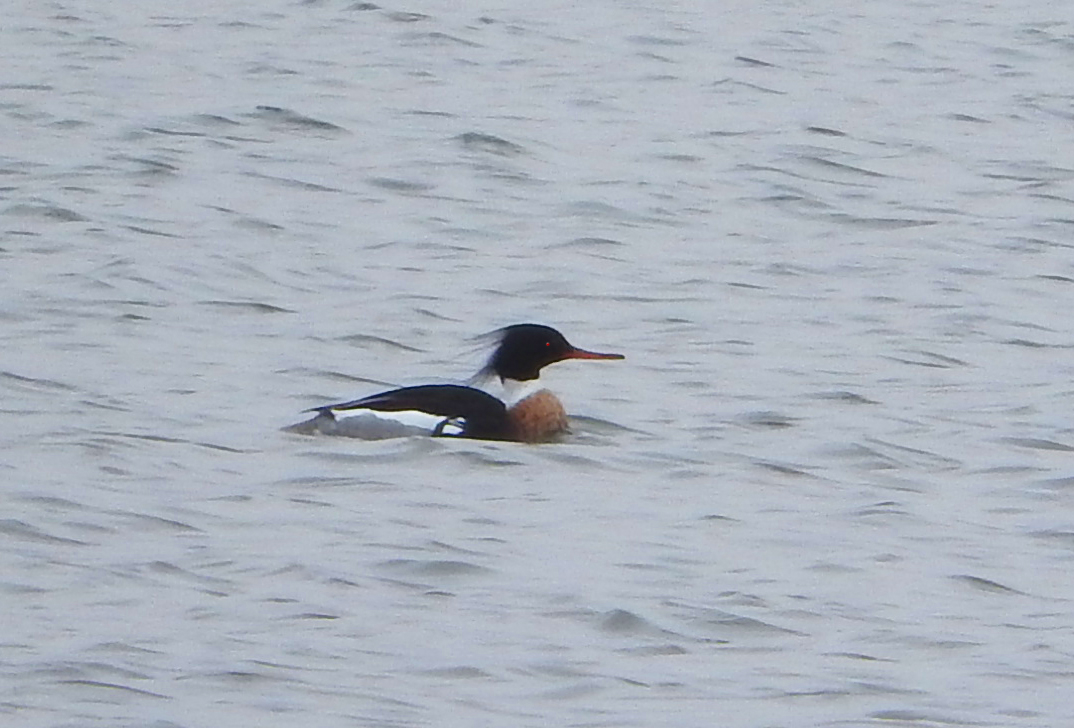 60 species
Not much for migrant geese around anymore except one flock of Greater
White-fronts and a smattering of Snow Geese hiding in flocks of gulls.
Ducks were plentiful, however, with each lake having a different species
composition. Gadwalls were probably most abundant, with several thousand of
them at Weisensee. The west portion of Lake Vermillion, usually empty of
birds, held a flock of 65 Cormorants, a few Great Blue Herons, some Common
Mergansers and one Red-breasted Merganser. We also found a few Rusty
Blackbirds in a mixed blackbird flock just east of Wall Lake.
Today's species list:

Greater White-fronted Goose
Snow Goose
Cackling Goose
Canada Goose
Wood Duck
Gadwall
American Wigeon
Mallard
Blue-winged Teal
Northern Shoveler
Northern Pintail
Green-winged Teal
Canvasback
Redhead
Ring-necked Duck
Greater Scaup
Lesser Scaup
Bufflehead
Common Goldeneye
Hooded Merganser
Common Merganser
Red-breasted Merganser
Ruddy Duck
Ring-necked Pheasant
Pied-billed Grebe
Double-crested Cormorant
Great Blue Heron
Turkey Vulture
Red-tailed Hawk
American Coot
Killdeer
Franklin's Gull
Ring-billed Gull
Herring Gull
Rock Pigeon
Eurasian Collared-Dove
Mourning Dove
Belted Kingfisher
Red-bellied Woodpecker
Downy Woodpecker
Northern Flicker
American Kestrel
Blue Jay
American Crow
Horned Lark
Black-capped Chickadee
American Robin
European Starling
Lapland Longspur
American Tree Sparrow
Dark-eyed Junco
Northern Cardinal
Red-winged Blackbird
Western Meadowlark
Rusty Blackbird
Common Grackle
House Finch
American Goldfinch
House Sparrow
February 2017 Field Trip- Wetland area west of Sioux Falls
Greater White-fronted Goose
Snow Goose
Cackling Goose
Canada Goose
Mallard
Northern Pintail
Common Goldeneye
Ruddy Duck
Ring-necked Pheasant
Wild Turkey
Red-tailed Hawk
Rough-legged Hawk
Rock Pigeon
Eurasian Collared-Dove
Red-bellied Woodpecker
Downy Woodpecker
Hairy Woodpecker
Northern Flicker
Blue Jay
American Crow
Horned Lark
Black-capped Chickadee
White-breasted Nuthatch
American Robin
European Starling
Cedar Waxwing
American Tree Sparrow
Dark-eyed Junco
Northern Cardinal
Red-winged Blackbird
Western Meadowlark
Common Grackle
House Finch
American Goldfinch
House Sparrow
October 2016 Field Trip
Today seven members of the Sioux Falls Bird Club checked out Wall Lake, the
Sioux Falls landfill, and Dewey Gevik Conservation Area west of Sioux Falls.
There were thousands of Franklin's Gulls at both the landfill at Wall Lake.
We had good luck for sparrows at Dewey Gevik, finding most of the migrating
species including two Le Conte's Sparrows. It was a beautiful day to walk
the trails, some of which don't get birded terribly often. A full species
list is below.


Chris Anderson
Sioux Falls, SD


Canada Goose
Mallard
Wild Turkey
Double-crested Cormorant
American White Pelican
Great Blue Heron
Turkey Vulture
Sharp-shinned Hawk
Bald Eagle
Red-tailed Hawk (including a Harlan's)
American Coot
Killdeer
Franklin's Gull
Ring-billed Gull
Eurasian Collared-Dove
Mourning Dove
Red-bellied Woodpecker
Downy Woodpecker
Blue Jay
Black-capped Chickadee
Red-breasted Nuthatch
White-breasted Nuthatch
Ruby-crowned Kinglet
American Robin
European Starling
Cedar Waxwing
Orange-crowned Warbler
Yellow-rumped Warbler
Le Conte's Sparrow
Chipping Sparrow
Fox Sparrow
Dark-eyed Junco
White-crowned Sparrow
White-throated Sparrow
Savannah Sparrow
Lincoln's Sparrow
Swamp Sparrow
Red-winged Blackbird
Western Meadowlark
Common Grackle
Brown-headed Cowbird
House Sparrow

January 17, 2015